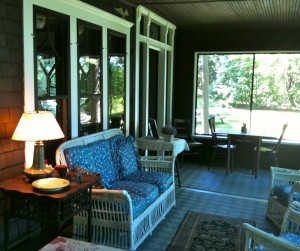 Summertime: a perfect time for porches.
I grew up in a classic shingled bungalow with a wrap around porch. My sister's family lives there now. The front porch faces the street and the lake (as many in Minnesota do); the side porch faces a wooded ravine with a creek, and is wide and long enough for four beds, making it an unbeatable sleeping spot, especially on waking to dappled sunlight and morning bird sounds.
During warm summer evenings, I remember our porch being the scene of long, meandering conversations, typically begun with a laptop supper. Several adults, including my folks, great aunt and a neighbor or two, would offer up the main stories. Four to six of us kids would add our own to the mix, with animation. After dinner, kids would head out for another round of play in the neighborhood. Returning after sunset, the adults would still be going on.
The rich memories I have on this porch may be why I love porches so much, and pay attention to what makes them work, or not.
Garrison Keillor, our generation's Mark Twain, grew up in a nearby town, and has his own wealth of memories and perspectives on porches. He says,
"The porch promotes grace and comfort. It promotes good conversation simply by virtue of the fact that on a porch there is no need for it."
Of porches, there are many kinds. The covered entry shelter, just big enough to fumble for keys. The grand portico, built to impress, but completely inappropriate to hang out on. The faux porch, which looks like a porch, but is a useless add-on to make a blank facade more interesting. The back porch, a utilitarian passage for coats, boots and nearby neighbors.
And then there is the timeless front porch, a unique room that belongs to the household while being open to passersby. Its magic comes from the fact that is part interior, part exterior. It is both private and public.
After the shared commons, a good front porch is the next most essential element of a pocket neighborhood. It is the medium of connection among neighbors. Coming home from a long day at work, you might be invited by a neighbor on his porch to join in a call-out order for pizza. It's also a buffer between you and your neighbors, with just the right amount of boundary to carry a signal, "I don't want to be disturbed."
Making a good porch is both an art and a science.
Careful placement, dimension and design will ensure that a porch will enjoyed for years. Here are some guidelines:
Getting the right location is the first step A front porch is a place of transition, so make it part of the primary entrance, connected to the front yard and in full view of the street or public walkway.
Make it large enough Lingering hellos and goodbyes require a space about 5 ft. across. Six feet is the minimum width for an eating table and chairs, or a setting of porch rockers. I prefer 9 ft. to 10 ft. wide, by about 12 ft. long. At this size the porch becomes a veritable living room, an extension of the interior living space.
Don't cut through the middle Don't arrange a lane right through the middle of the gathering space; place the passage to the front door to the side instead. If the porch is wide enough, the door may be centered between two gathering spaces.
Keep the porch open It's tempting to enclose a porch with windows. Remember that the porch contributes to the life of the public space, and making it too enclosed shifts the balance. Consider seasonal roll-down canvas curtains or fully removable storm windows to provide additional shelter when needed.
Define the edge A railing defines a critical social boundary between public and private realms. Don't leave it out! I like railings about 24 to 30 inches high—just the right balance of open and closed for a porch opening onto a shared commons. It also happens to be just the right height for "perching" and for placing a cup of tea (provided it's wide enough). Make sure to check your building code: if the height from the deck to the ground is more than 28 inches, most codes require the railing to be 36 or 42 inches high. A note about height: a porch just a few feet from a busy public sidewalk will want to be elevated, with a higher railing for more of a boundary. To determine the best height for the railing on your porch, mock it up before building it.
Build flowerboxes What can be more wonderful than raised flowers? They're bright and cheerful, always changing, and they entice us with their fragrance. Beyond their delight, flowerboxes add a soft edge to the boundary between personal and public space, and give life to the shared commons space or street.